senior pastor, brad boynton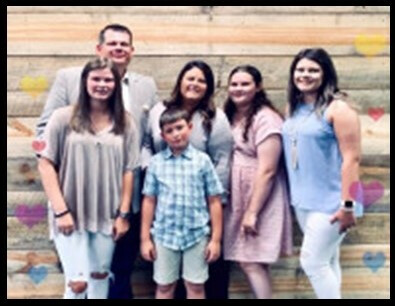 My family and I are so excited to be a part of the First Baptist Ludowici family. I am married to Fran, the love of my life. Behind every good pastor is a great pastor's wife, and I am grateful to God every day for the great gift of my wife. We have 4 wonderful children: Kayla, Madison, Lily, and Nolan. We love the Lord and enjoy serving Him together as a family. We also love camping and the Georgia Bulldogs! On March 25, 2003 God radically changed my life. That night, through the preaching of His word, God showed me that I was a lost church member who needed to be saved. That Tuesday night, in my home church, God changed my life and called me to preach. Since then I have had a passion for preaching and reaching the lost. God called us here to Ludowici on March 8, 2020. We believe God has great things in store for His church and we cannot wait for us as a church to further God's kingdom in our community and to all nations!


youth pastor, liston wainright

We are grateful to be a part of FBC Ludowici. I am married to my beautiful wife, Torie, and w

e have three children: Stella, Bowen, and Eli. On August 3, 2020, our lives were forever

changed when Bowen passed away at 3 years old. Through God's love and mercy,

we can tell others what He did for us not only at the time but what He continues to do for us

daily. I grew up a preacher's kid, so I was raised in church all my life. In July of 2008,

God saved me at a youth camp in Toccoa Falls, Georgia, and He called me to preach in 2017.

I wrestled with that call for a brief moment but soon realized that nothing else in life gave me so much joy outside of preaching His Word. God called my family to FBC Ludowici May 2, 2021.
We are excited for what God has in store for this church and this wonderful community in which He has placed us.



ministry assistant, debe austin

I officially joined the staff in August, 2019. I'm married to Earl Austin, and we have
two daughters, M
elody and Mary Ann ("Bubba") and two sons-in-law, Jason and Brandon. We have also been blessed with four amazing grandchildren , one of which presented us with an adorable great grandchild recently. I retired from Federal Service in May, 2014, as Chief of Facilities Division of Contracting, during which time I managed many contracts to include construction, facilities operation and maintenance, utilities and energy. I earned my Masters Degree in business from Saint Leo University in 2006. I am thrilled to be involved in several ministries at FBC to include children, youth, and senior adults. I consider my role on the church staff a special way to serve God through my church.